The Web Hosting Affiliate Program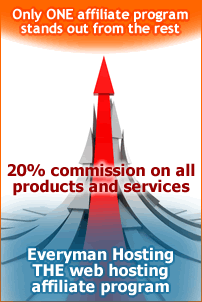 Earn a whopping 20% commission on all sales in the web hosting affiliate program.
You can earn 20% of each and every sale in our affiliate program, what's more the commission applies to all new orders for any product or service.
Tracking is made using cookies with a 12 month life span, so your referrals will still earn you commission even if they don't buy right away. An extensive range of program creatives and advertising material is available in the affiliate control panel, including banner ads, text and link ads and hover text ads. But you can also create your own and use your unique affiliate link.
Your affiliate control panel will also offer you detailed and graphical stats, unique URLs and specific campaign or ad tracking.
Signing up with our affiliate program is completely free of charge,
so sign up today.
Existing Affiliates, please log in here
See also Affiliate program terms of service
© Copyright 2003 to 2022 Everyman Hosting.